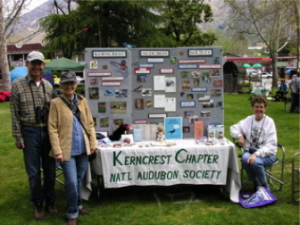 Kerncrest Audubon publishes a checklist of bird species seen in the Indian Wells Valley.
The chapter maintains a spring-fed wildlife waterer in Cow Heaven Canyon in the Scodie Mountains.
The annual China Lake Christmas Bird Count has been run for over 40 years. Kerncrest Audubon members also assist with the Kern River Valley and South Fork Valley Christmas Bird Counts.
Our chapter has participated in the San Bernardino Breeding Bird Atlas project.
Kerncrest Audubon has assisted the BLM in establishing a wild life viewing area overlooking Little Lake north of Ridgecrest.
We participate in the Kern River Preserve activities through out the year.
Our bi-monthly Public Programs often cover items of conservation interest.